News
07/11/2004 11:19 AM
Article By:
10 July 2004
THIS WEEK IN THE CAPE LEAGUE
Slone welcomed back to The Cape with open arms
When catcher John Slone decided to return to the Cape Cod Baseball League this summer, Harwich manager Steve Englert took up household gymnastics.
"I was so happy, I was doing back flips in my living room when he didn't sign," Englert said. "We were really hoping that he wouldn't."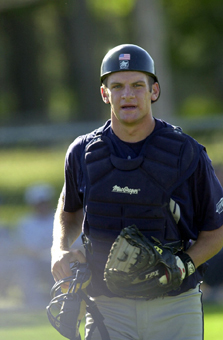 John Slone, Harwich Mariners
SportsPix 2004
After a college season at Miami University that earned him third team All-America honors, Slone was selected by the Pittsburgh Pirates in the 15th round of the Major League Baseball First-Year Player Draft. With a year of college eligibility remaining, however, this week's Cape League Player of the Week chose to stay for another year at Miami.
Much to the delight of Englert, that also meant another season on The Cape.
"I'm so happy that he's with us," Englert said. "He's one of my favorite players. He's a great kid, takes charge out on the field, swings the bat and really handles our pitching staff well."
The possibility of playing on the Cape figured heavily into Slone's decision to stay in school.
"It's a great league. I knew that I'd have a good time, and it's lived up to it so far," Slone said. "I told the scout when we were negotiating that I had a great opportunity to come up here, and I love playing at Miami, too."
It's clear that Miami loves him back. Slone hit .375 last spring to lead the RedHawks and enjoyed a 26-game hitting streak, fourth longest in Mid-American Conference history, to earn a unanimous first-team All-MAC selection.
Three years of success and experience at the collegiate level makes a player like Slone a hot commodity in the Cape League.
"The older kids down here can handle the competition a little better than a younger guy," Englert said. "If you have a sprinkling of juniors on your team, that helps. They can handle it mentally because they've been through it before and they're more mature."
The Cincinnati, Ohio, native is new to the Harwich organization, but he is a familiar face in the league. Recovering from a finger injury that sidelined him for a portion of his freshman season at Miami, Slone joined the Yarmouth-Dennis Red Sox in the middle of July and started each of the team's playoff games in 2002.
"I just like the competition," he said. "This is as close to the big leagues as you can get, without actually playing professional baseball."
After his sophomore campaign at Miami, Slone played in the New England Collegiate Baseball League last summer, where he hit .321 and stole nine bases.
Now Slone is back on the Cape and has taken the league by storm. Last week, he hit .478 in five games, scoring four runs and driving in three.
"Facing guys throwing 90 every night, it's definitely an accomplishment if you have a good week like I did last week," he said. "Now I just hope I can keep it going."
Englert is confident that the junior can. For right now, he's just happy to be able to have a catcher that can swing the bat in his lineup.
"That's a huge bonus. It's a rarity to find somebody like that," Englert said. "We were very lucky, very fortunate to have him with us because usually those guys – any offensive catcher – usually go pretty high in the draft. He can swing the bat, and he's tremendous defensively."
Regardless of his success at the plate, it's his job behind the plate that Slone values the most.
"I've always looked at defense first. The hitting will come," he said. "I just concentrate on working hard defensively, blocking balls and receiving. I know the hitting will come."
It's safe to say the offense has arrived. --T.J. Lasita; CCBL Intern; [email protected]
John Garner, Jr.
CCBL Director of Public Relations & Broadcasting
(508) 790-0394 [email protected]
Bruce hack, League Historian