News
08/12/2005 1:14 PM
Article By:
12 August 2005
THIS WEEK IN THE CAPE LEAGUE
Championship Week
Orleans Takes Game 1 of CCBL Championship Series With 1-0 Win Over Bourne
ORLEANS – After scoring nine runs in the third and deciding game of the East Division playoff series against Chatham, the Orleans Cardinals managed just a single run in the opener of the Cape Cod Baseball League Championship Series against Bourne Friday at Eldredge Park.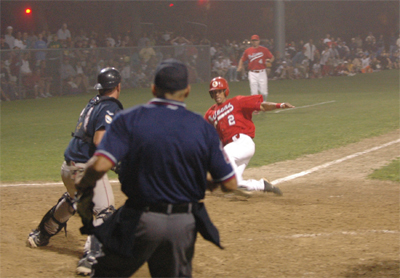 Manny Burris tags to score on a pop foul.
swilson / CCBL
But that single run proved to be the difference as the Cardinals scored an unorthodox, walk-off run to post an exciting 1-0 victory over the Braves to take a 1-0 lead in the best two-out-of three championship series.

With the bases loaded and one out in the bottom of the ninth, speedster Emmanuel Burris scored on a foul pop-out in front of the Orleans dugout, when the Braves failed to cover home plate.

Greg Reynolds pitched 8 1/3 innings and allowed just one hit for Bourne, a fourth inning double by David Uribes, but took the loss after he'd left the game. He compiled four strikeouts, while walking two and hitting one batter.

The winning pitcher was David Coulon in relief of Andy Graham, who pitched seven and 1/3 innings. He allowed six hits and one walk, while striking out seven batters.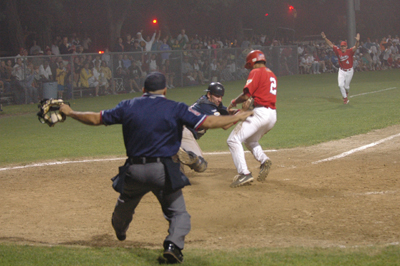 Manny Burris is safe scoring the winning run.
swilson /CCBL
Bourne out-hit the Cardinals seven to one, including three hits in the sixth but Tim Mascia, who doubled to right field, was thrown out at the plate

Mike Hernandez went three-for-four, to pace the Bourne attack.

The CCBL Championship series resumes Saturday with Game 2 scheduled for 3 p.m. at Coady Field in Bourne.

The game will be broadcast live on PIXY 103 (102.9 FM) and on Free Teamline beginning at 2:45 p.m.
John Garner, Jr.
CCBL Director of Public Relations & Broadcasting
(508) 790-0394 [email protected]

Interns: Stephanie Falco, Jason S. Itzkowitz, Jenna Kubesch, Michael Kydd, Nicholas Mucci, Colin Reed