News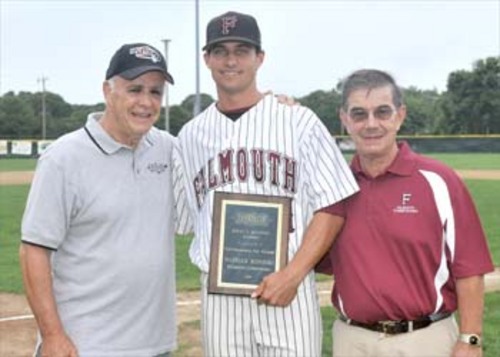 08/11/2011 8:46 AM
Article By:
FALMOUTH, Mass. - Falmouth's
Nate Koneski
(Holy Cross), a resident of North Dighton, was honored this week with the John Claffey New England Top Prospect Award. Koneski is the first Commodore to win the award, named for the long-time Wareham official.
Known by his teammates as "Nasty" Nate, the 6-0 left-hander is completing his third summer with the Commodores as a shutdown reliever. He has lived up to his nickname, posting a 1.03 ERA, with 24 strikeouts in 26.1 innings. "To win (the award) was definitely an honor," he said. "There were a lot of great players that could have gotten it, and I was a little surprised when I heard I got it."
Koneski's first experience with the Commodores came at the end of the 2009 summer when he replaced an injured player. He impressed the coaching staff enough to earn a temporary contract for the following summer, eventually gaining a full contract and finishing with 18 strikeouts in 17.1 innings and a 1.04 ERA. "I was lucky enough to get the opportunities from the Falmouth coaches to prove I could stay," he said.
He returned this summer without a full contract, but the crafty southpaw proved once again that he belonged. "After pitching so well last year, I was a little anxious about not being a full contract player, but it gave me motivation to focus and play better," he said.
Field manager Jeff Trundy has leaned on Koneski for tough two- or three-inning stints out of the bullpen, "We know we are going to get good innings out of Nate," he said. "He's very steady and dependable and knows how to pitch. He has a quiet confidence in his abilities and so does the coaching staff, he has filled that left handed bullpen role for us."
Koneski is thankful to the Commodores coaches for giving him a chance. "I couldn't ask for anything more from Trundy and (pitching coach Shane) Wedd for giving me the opportunity," he said.